Post by SeaRat on Apr 24, 2017 21:48:56 GMT -8
I bought my Nikonos II system, complete with a BC flash unit, new in about 1968. I used it when diving in Okinawa, and took some flash photos with it. I still have the BC flash unit, and have not used it in probably 30 years. But I also had some flash bulbs left over from when I was still using the unit--again 30 or so years ago. The BC flash unit went out of favor in about 1973 when I broke down and bought a Subsea Mk 150 strobe unit, which I also still have.
Well, about a week ago I gave a talk to the Chinese Scientists, Engineers, and Professionals Association (
CSEPA
) here in the Portland area. I am on the Board for this organization, and when last month they came up short of a speaker, I volunteered. Then, we got a speaker last month, so I was bumped to this month. I had four topics I could speak on (Chemicals in the Workplace, Hydrofluoric Acid Exposure, Calculating the Buildup-Decay graph of a Toxic Release of Ammonia in a Room, and Mussels Spawning and Freshwater Life in Oregon Rivers). Well, I polled the Board, and low and behold they wanted to hear about mussels spawning and freshwater life in Oregon rivers, along with my involvement in the Winchester Dam Hydroelectric Project's salmon kills. So I spent time putting together a talk that included the Winchester Dam salmon kills on the North Umpqua River, which I worked on in the 1984-5 time frame. I also brought a scuba unit to show everyone, and then I also brought my Nikonos II with the BC flash attached.
I had dug out my Nikonos II, and dug out the BC flash unit for it, and put it together. Just for show, I also put an unused flash bulb into the flash unit.
Well, I had a great talk, followed by questions about my diving and some of my military experience, and then I showed some of the younger "kids" (in their twenties) the scuba and my camera systems. I had also brought my housed Canon New F-1 in an Ikelite housing, and showed it off. One of the gals, our President's daughter, asked about how the Nikonos II worked. I showed her the shutter lever, and told her to trip it. Well, it didn't trip, so I looked and sure enough, that little "safety" piece was down, preventing the lever from moving toward the case. I moved it out of the way, and told her to go ahead and trip the shutter, which she did. Instantly, there was a blinding flash as the flash bulb lit up the room, and she jumped back about three feet.
Never in my wildest imagination did I think that the flash would go off, as it had not been tripped in over thirty years. But it did, temporarily blinding her because of its brightness. Later, my son Brian, a mechanical engineer, asked to see the insides, and I unscrewed it to look at the inside. There was a capacitor and the 30-year old 9 volt battery sitting there, just awaiting another shutter trip to ignite a flash bulb.
For the young people present, it was the first time any of them had experienced actual "flash" photography. I'm just sorry I did not have film it the camera and a focus at four feet at F-11 so as to capture the expression of that first experience with a flash bulb going off at close range. It would have been priceless! Luckily for everyone, this was a coated bulb, and did not shatter when it went off. Below (when I get it onto Photobucket--they are in maintenance now) is a photo of the Nikonos II/BC Flash system.
What a lot of people do not know is that the BC flash synched with the camera at any shutter speed, and a lot of my flash bulb photography was shot at 1/125 second shutter speed. When the young people asked about how the next photo was taken, I showed the quick removal lever for the flash bulb, and showed them how another could be placed in the unit for the next shot. One of the new engineers asked,
"You mean that you have to replace the flash bulb after each picture?"
I answered, "Yes, one bulb, one photos. Each bulb is 'spent' after the photo." I then explained that there was a mini-explosion inside the bulb, and after that the bulb was toast (literally). They thought that was incredibly wasteful, which it was. I remember carrying my flish bulbs on a bit of inner tube, having 36 of them at a time, and trying to put each one back into its small hole after my photo so as not to lose them in the water (although a number of them got away). But this was how we took artificial light photos in the 1960s and 1970s before getting good strobes.
John
PS, if anyone is interested in the technical specs of various flash bulbs, check out this
Flashbulb Technical Data
.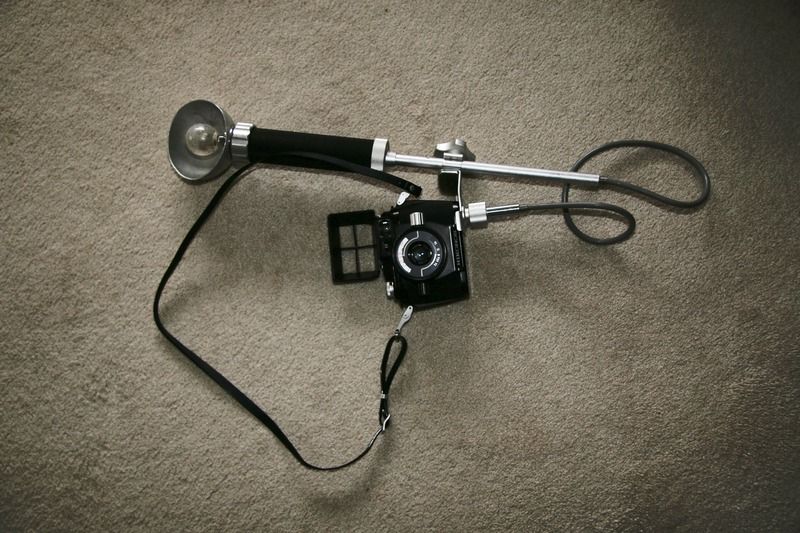 This is the Nikonos II underwater camera system, complete with the viewfinder and BC flash unit. Note the flash bulb has been used; this is the bulb that startled the daughter of the President of the CSEPA.
I took this flash photo on an Okinawa reef in 1968. The camera was probably set at 1/125th of a second, with the 35mm lens set at F-8. You can see the slight shadow from the BC flash, and the details of the inside of Terry Wetzel's mask illuminated by the flash. Stephen Samo is the other USAF Pararescueman on an official USAF dive on this reef (we needed to do currency dives, so we combined these dives with some searches for lobster, and some spearfishing).
On a different dive in 1968 on a different reef off Okinawa, you can see that the lack of the flash diminishes the details of the photo.