Post by jviss on Oct 27, 2018 9:00:06 GMT -8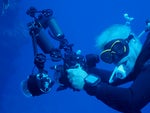 I didn't make these changes lightly. I understand that having the composure underwater to buddy-breath is a good thing for divers. I found that the greater difficulty of buddy-breathing made a greater impression on students causing them to hand off their primary when surprised by a diver in need of air. I don't think I've consulted a dive table during anything but training in 20 years.
I'm interested in thoughts from those of us who learned to dive before computers and octopuses.
Good Dives,
Charlie
I got interested in SCUBA in the late 60's, and was PADI-certified in 1975. The training I took for the PADI cert. was unusual, I think, because it was a semester-long course, one classroom and one pool session per week. The instructor was a former Navy diver and current NYC Police diver.
This was just after the dawn of the BCD, and the trend, as I saw it, of dive shops in concert with certifying agencies loading people up with equipment and technique developed to support the new equipment.
I was fortunate to learn first what we now call vintage diving - learning to establish neutral buoyancy - actually, slightly positive at the surface - in a wetsuit, mask, fins, snorkel and weight belt. The tank was a 71.2 steel, slightly negative full, slightly positive empty. This was a brilliant system. One was buoyancy-stable with or without the tank backpack. The horse collar BC was an evolution from the "rescue vest" or snorkel vest, and that was O.K., but usually ended up requiring more lead for failing to completely evacuate it. That's the thing, the big thing, in my opinion: the vintage way one was stable with the absolute minimum of weight, with or without one's SCUBA set. You swam down and soon your wetsuit compressed maximally and you were neutrally buoyant, and could swim around easily, horizontally. You swam up, and near the surface your suit expanded and you became slightly positively buoyant. With the "new" system you wore extra weight because you could never completely empty your BC (later called BCD); it was much worse with a jacket BCD attached to the backpack, much more air, and hence more lead. The lead was around your waist, the air higher up, so everyone swam more vertically, lass efficiently, using more energy and air. If you had to doff your SCUBA, you lost your buoyancy and sank, unless you dropped your weight belt, at which point you were super buoyant - unsafely so! No buoyancy stability. When I "vintage dive" from my sailboat, rather than hoisting my self and my tank (or tanks) up the ladder, I tie the rig to a line dangling in the water and doff it. I'm still buoyancy stable, in my wetsuit and weight belt. I can hoist the rig up once I'm comfortably on board, or leave it if I'm going in again and there's sufficient air remaining for whatever I might be doing.
Buddy breathing. Why is this not an option? The composure one gains from learning and practicing buddy breathing is important. My weird PADI course consisted of many exercises that are shunned now. We learned buddy breathing, did doff and don drills, experienced harassment drills - instructor ripping off your mask or turning off your air. We trained our brains to stay cool and deal with issues rather than today where folks are trained to use their equipment, rely on it, too heavily, in my view. We did underwater swimming drills where 6 tanks were placed in an Olympic pool, four corners and 1/2 way along the long sides; tanks had regulators mounted and valves off. Drop down to the first, air on, clear, breathe a few breaths, air off, swim underwater to the next. How many circuits can you complete? With buddy breathing you were taught, and practiced, how to maintain proximity, holding each others' harness strap, facing each other, you shared and ascended. We were also taught and practiced free ascents. I'm pretty sure a lot of these things are no longer taught in basic courses.
The important thing about practicing buddy breathing and these other things is training one's brain for composure, coolness in the face of adversity.
I feel the same way about computers. Plan your dive and dive your plan! Use the tables to determine bottom time, repetitive dives, and so on. I have a sophisticated, multiple-station GPS chart plotter on my boat, but I still carry paper charts and review charts before a cruise.
(By the way, handing off your primary is
de rigueur
in DIR diving.)