Post by SeaRat on Jul 29, 2015 14:46:24 GMT -8
Recently I have noticed that some people don't know how to correctly adjust the double hose mouthpiece for comfort. This is not a problem with single hose regulators (except a very few, very early regulators such as the USD Aquatic), as they have a swivel connection at the second stage. This adjustment is critical for a double hose regulator, as if the mouthpiece/hose assembly is not correctly adjusted, there will be fatigue of the jaw muscles, and potentially someone biting down on the mouthpiece tabs, severing them and creating a respiration hazard my severing the tab. My concern is that these mouthpieces should not require any pressure on the mouthpiece tabs to keep them in place. They really are not made for biting down on, just to keep them from slipping out of your mouth easily. And, that is my concern; that you are relying upon biting down on the mouthpieces to keep them in place. To me, that means the mouthpiece (either double hose or snorkel) is not adjusted correctly. If these mouthpieces are not adjusted correctly, they will apply a torque (twisting motion) on the mouthpiece and a heavy bite will be needed to keep them in place. Please take a look at these two photos: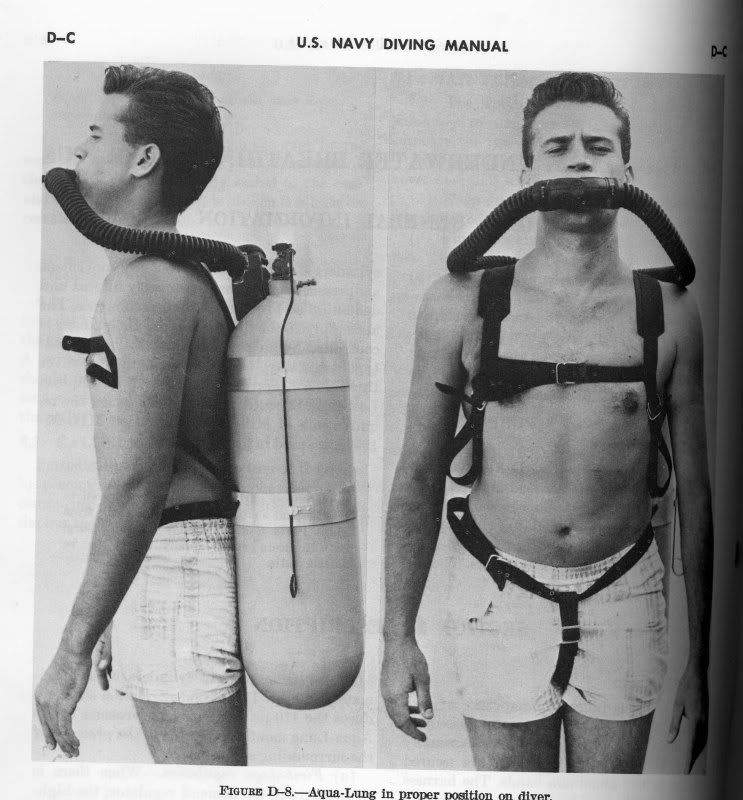 Note that the mouthpiece is balanced, that is that it places no pressure on the diver's mouth is he holds it in position. The way to check that is to put the mouthpiece above the regulator in approximately the position you would bite on it (about six inches above the regulator, and a foot in front), and it should balance on the tip of one finger, right in the center of the mouthpiece with the inhalation part pointed horizontally toward your mouth.
Alternatively, you can put the regulator face-down on a flat surface, and the mouthpiece should point directly back at the regulator's box.
If it fails either of these tests, you need to loosen the clamps, and reposition the hoses on the mouthpiece so that the balance is maintained.
For a snorkle, it needs to be adjusted on the mask so that it is just long enough to easily reach the mouth, and the mouthpiece again should point directly into your mouth. If it doesn't, then the tubes need to be twisted (break the glue seal, and twist the curved tube to the proper position, then re-glue with neoprene cement). Or, if that cannot happen, then you need to get a different snorkel that fits your head better (that has happened to me). I like the Dacor flex-hose snorkel because it goes into whatever shape I want it to.
Now, if you don't mind, I'd like to talk about this on the thread too, but not in the context of your situation. Maybe even a new thread talking about adjusting mouthpieces would be appropriate.
John