Post by SeaRat on Oct 29, 2016 20:45:02 GMT -8
This thread is being created for those who wish to see the ways that the two types of depth gauges were modified for use in fresh water and at altitude. In addition, I have enclosed the Cross Tables for "Theoretical Depth At Altitude for Given Actual Depths." This information comes from a conference I attended on altitude diving for the USAF in about 1975.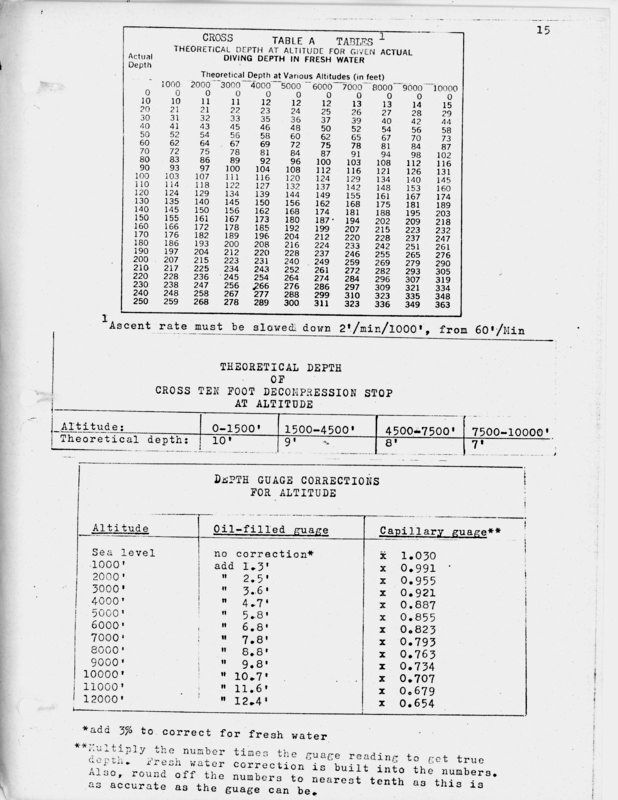 You will notice that there are three tables. They are:
--Cross Tables, "Theoretical Depth at Altitude for Given Actual Diving Depth in Fresh Water"--This table was developed by E.R. Cross to show the theoretical depth that should be used with the U.S. Navy Diving Tables for the actual depth (line measured depth) in fresh water. For instance, if I were to dive in Clear Lake, Oregon at a depth of 4500 feet, I would use the 5000 foot column at 100 feet, and that is the depth I would use for the U.S. Navy Diving Tables that are used at sea level. On this depth, I would have to use 120 feet in the U.S. Navy Diving Tables to get the correct decompression times for that altitude.
--"Theoretical Depth of Cross Ten Foot Decompression Stop at Altitude"-- For the above dive, I would need to modify the depths and at 5000 feet, the ten foot stop would be at 8 feet actual depth (see below for depth gauge corrections).
--"Depth Gauge Corrections for Altitude"--Depending upon the type of gauge you use, the depths at altitude will be inaccurate, but in different ways. This is critical in determining the depth of the dive, and the depth of decompression and/or safety stops. Fer instance, for that dive in Clear Lake at 4500 feet, you would go to the 5000 foot correction for a bourdon tube ("oil-filled") gauge. For this gauge, if my depth gauge read 60 feet, I would need to add 5.8 feet to that reading, which would make it a dive to 66 feet, and I would use the 70 foot no-decompression table, or use 70 feet on the decompression tables for sea level. If my gauge read 60 feet and it was a water-filled capillary gauge (the ones where the water column fills a small tube, and that tube is calibrated for different depths, I would have to multiply it by a number to get the actual depth. Capillary gauges read deep at altitude, and so if you use the capillary gauge depth, that would be a compensation for the altitude. But to get actual depth in Clear Lake, at about 5000 feet altitude, you would need to multiply the capillary gauge reading by the number, and at 5000 feet that number is 0.885. So a 60 feet depth reading would then be:
60 x 0.885 = 53 feet actual depth
I hope this little thread helps with those who are using vintage gear in fresh water at altitude.
John