Post by surflung on Aug 16, 2023 6:02:23 GMT -8
My J.C.Higgins Project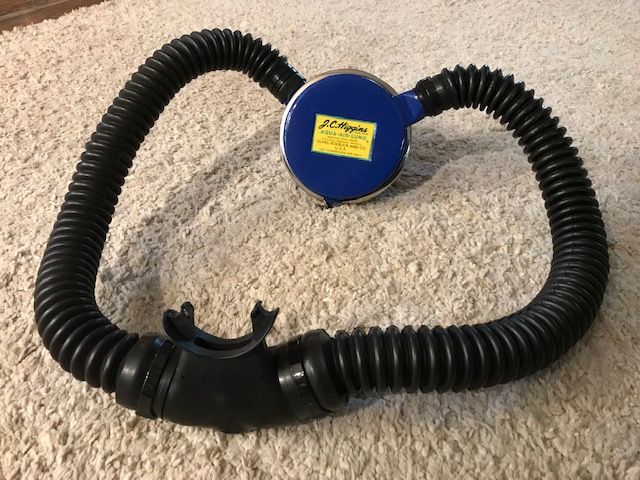 I forget how it all got started but... I read up on the J.C. Higgins double hose regulators on the CG45.com website. It originally was a U.S.Divers Stream Air that was private labeled and sold as the J.C. Higgins "Aqua-Air-Lung" by Sears Roebuck. So, it was not a MIstral NOR a DAAM. I thought I had a Mistral with bad cans laying around and figured I'd paint it blue and make up a J.C Higgins label reproduction to stick on it.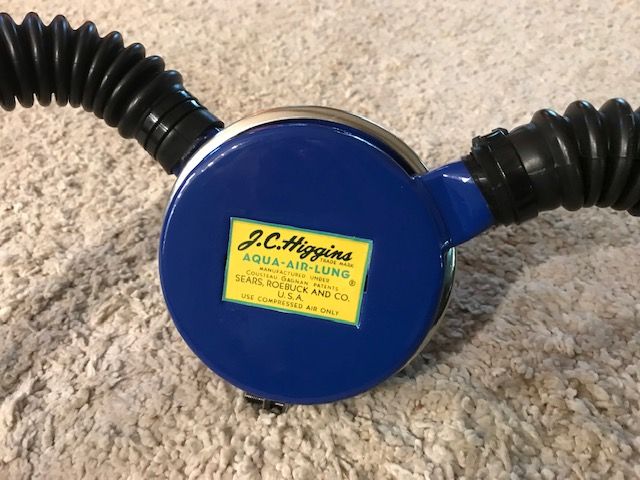 CG45.com has an excellent photo of the label. So I contacted Adair and he graciously gave me permission to reproduce the label. The only sure waterproof label material I could find online was bumper sticker... Which had plenty of room to layout extra copies of the label. This turned out actually very good. But when I pulled out the Mistral I was going to paint, I found it was too nice of a Mistral to modify. So I set the project aside.
Then my buddy Ron Sheriffdiver asked me for a J.C. Higgins label to use in building his own project. He got a quote from Roger for painting the cans and asked if I wanted to send any cans in with his. So, I found this DA AquaMaster with corroded cans and decided to use that as my FAUX J.C.Higgins reg. Three months later we got the painted cans back. And assembled our regulators.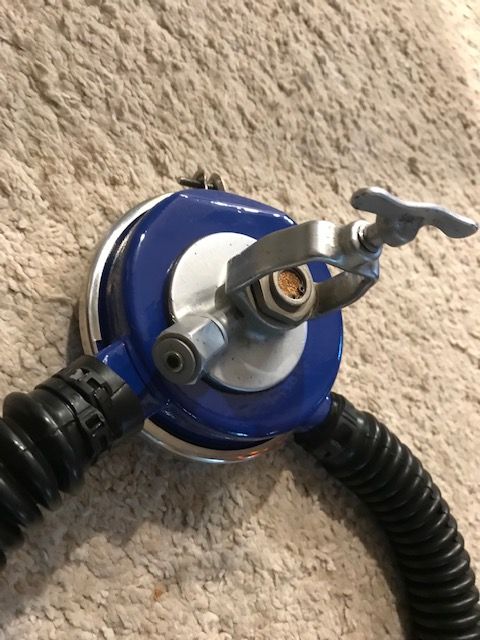 Ron was gracious in letting me show off my project first. His is more authentic looking with a removable horn on the can... like the original J.C. Higgins. Mine has the familiar DA AquaMaster internals... Which are an excellent foundation for rebuilding, and tuning into an easy breathing regulator. The original DAAM first stage nozzle was corroded ugly so I looked in my parts for a nicer one. I found the nozzle I plated electroless nickel years ago for my "Mystery Mess" project. (I later on replaced that nozzle with a balanced "Cyclone" nozzle from VDH). So this electroless nickel one is like brand new. I swapped it into this J.C. Higgins DAAM and it works great. Adjusted the IP to 140 and she locks up perfectly with no leaks. I added a brand new silicone diaphragm and duckbill from Rob at the Scuba Museum and put it all back together.
Photos here show my J.C.Higgins with an old hose loop I keep around for testing. I will probably put some new hoses on it. But I like the curved USD mouthpiece because I plan to DIVE this regulator. Besides, I don't know where I would get anything like the original mouthpiece.
If anyone would like to read up on the J.C.Higgins regulators, go to
cg-45.com/regulators/JC_Higgins/index.shtml